Custom & Imprinted Beach Balls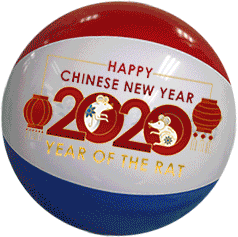 CUSTOM IMPRINTED BEACH BALLS IN SIZES FROM 6" TO 48" IN MOST COLORS CAN BE DONE UNDER NORMAL PRODUCTION TIMES.
FIND OUT THE AVAILABLE OPTIONS:
CALL 302-628-8888
EMAIL BEACH@BEACHBALLS.COM

Want something custom? Custom Imprinted Beach Balls, your own unique colors, sizes, etc. We can check and see what your request may cost and what is involved in getting your beach balls delivered in the time you need.

Beach Balls you see on our site may be used as examples, but pricing, inventory, styles and colors are not related to your custom request. Custom Beach Balls are manufactured for you and it takes longer than a few days.

Popular Custom Questions:

How Quickly?
Normal Production is 3 Weeks plus Transit.
Need it Super Quick? Sure but we have to pass along the RUSH Fee production imposes on us. It's kind of a nice way of saying "bribe" to get it done now.
Art work?
Please provide a Vector AI Properly Formatted Image to avoid graphic charges. There is a CHARGE ON ALL GRAPHIC WORK IF NOT PROVIDED IN VECTOR FORMAT. (15-MINUTE INCREMENTS @ $24.00 / $96.00 PER HOUR)
There is a SET-UP/PLATE PRODUCTION CHARGE OF $42.00 per color or $72.00 for sizes of 36" and 48". No Set-Up charges on Giants at this time due to production methods.
Is there a minimum? Yeah
4" to 48" Beach Balls - 50 MINIMUM NORMAL / NO LESS THAN 25 Beach Balls per Size & Color. In short, the same Beach Ball. We're not allowed to mix and match.
Under 50 we get slapped with an Under Minimum Fee of $24.00.
Please keep in mind that a production run of 1 Giant Imprinted Beach Ball could run $300 + each. Discounts obviously on larger quantities. These are factory mandated costs.

Pricing:
Pricing is estimated based on a number of variables. These are custom quotes and can take some time. Some quotes can take up to 48 hours to determine due to material, imprinting, shipping, etc. If you would like, please fill in the form below and we will provide your quote as soon as possible. Just fill it in and we'll help inflate your world.
---