Shipping Information
HOLIDAY SHIPPING SCHEDULE
Please keep in mind that there is no shipping services on the Mondays following New Year's Day. This kind of limits our options. So here we go:
Tuesday, December 27 - Thursday, December 29 - OPEN Limited Customer Service
Friday, December 30 - Monday, January 2 - CLOSED
Tuesday, January 3, 2023 - OPEN FULLY
---
DAILY SHIPPING DEADLINE 3:00PM ET
Most orders received by 3:00 pm ET will ship out that day. We will continue to do what is possible before everything closes. Of course, please call if there is an urgent need.
---
WHEN DO WE SHIP? DAILY EXCEPT SUNDAY
We ship daily Monday - Friday on All Orders in by 3:00 pm ET
Saturday on Most Orders by 12:00 pm ET.


NOTE: SATURDAY SHIPS UNTIL USPS PICK-UP. ACTUAL TIME MAY VARY.
---
TIME SENSITIVE?
If you absolutely need these or expect this by a certain date, please let us know in the COMMENT section.
What if it's after the 3:00 pm deadline and it's critical?


Best to Call 302-628-8888 or TEXT 302-745-7917. We might have options still.
Flat Rate Shipping - Generally 2-4 Days for Delivery in the US. Shipped either FedEx Express or US Postal Priority.

FedEx Ground

- Shipping Time Varies depending on your location. 1 - 5 Days in the US. We are located in Delaware (East Coast) See Map Below.

USPS Priority

- 1 to 4 Business Days. The days are usually indicated on the receipt we email after each order.

USPS First Class

- 2 - 6 Days in most cases. Most cases.
---
FedEx Ground Shipping Map 2022
RESIDENTIAL GROUND SHIPPING MAY INCLUDE SATURDAY OR SUNDAY DELIVERY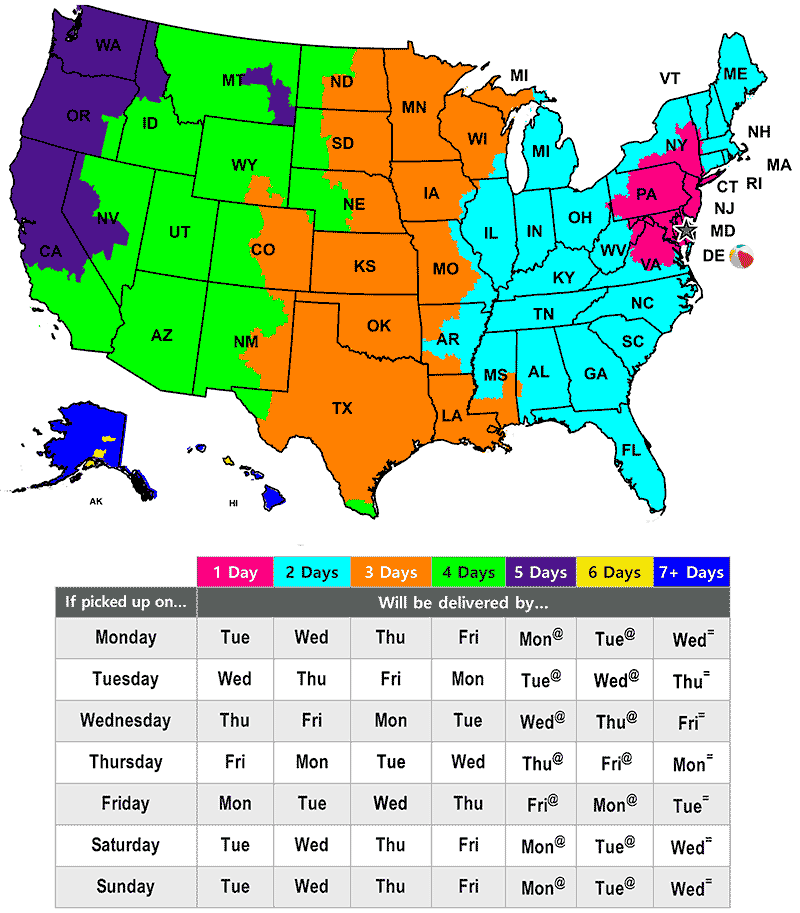 ---
What if my beach ball arrives damaged?
Please inspect all packages upon receipt for shipping damage, missing or incomplete items. If you have questions, contact us at 302-628-8888 or visit our SUPPORT PAGE.