Shipping Information
WHEN DO WE SHIP? DAILY EXCEPT SUNDAY
Short Answer, As Soon as Possible. Our Normal cut-off time is 4:30 pm Eastern Time for All Shipping Methods and 1:00 pm on Saturday for US Postal Service. We try to keep a counter on various pages like the one below:
What is Free Economy Shipping?
Since there is no actual Free Economy Shipping method and we try to maintain same day shipping if ordered by the cut-off time, it's mostly in packaging. For example: if you get various sizes of Beach Balls, they will most likely be packaged in the same sealed poly bag. Normally, we would identify the contents but it's pretty easy to figure out. Otherwise, most orders go out in the most cost effective method. If under 16oz, it's First Class USPS. Over a pound varies. If you have a drop dead need date that's a day or two away, this would not be the best method to choose. However, most orders arrive within 2-4 business days.
Now, there's a bunch of wording below on this in detail. If after normal hours, there still might be options to get it out to best adivce is to call us at 302-628-8888.
---
Official Cut Off Time is 4:30 PM ET Monday - Friday.


There should be a Countdown on Product Viiew & Cart Page.

USPS Postal Saturday Picks up at 1:15pm

FedEx Ground Deadline may be extended when need to 5:00 pm Monday - Friday

What if it's after the deadline and it's critical?


Best to Call 302-628-8888. We might have options still.
If possible, we might adjust shipping method if that benefits the speed of delivery. For example, if you

FedEx Express Saver

and we're shipping to New York City, changing it to

FedEx Ground

would speed delivery by two days. This only applies if this makes sense and speeds up delivery by at least a day.
FedEx Priority Overnight

- Usually by 10:30 am the next business day. So Overnight order Friday is Monday. Overnight order on Sunday is Tuesday. Saturday Delivery Possible in some cases.

FedEx Standard Overnight

- Usually by 4:30 pm the next business day. See above. It's just later in the day.

FedEx 2-Day One Rate

- 2 Business Days and includes Saturday delivery if residential.

FedEx 2-Day

- 2 Business Days Monday through Friday. Weekend orders are shipped Monday and would arrive Wednesday.

FedEx Ground

- Shipping Time Varies depending on your location. 1 - 5 Days in the US. We are located in Delaware (East Coast) See Map Below.

USPS Priority

- 1 to 3 Business Days. The days are usually indicated on the receipt we email after each order.

USPS First Class

- 2 - 6 Days in most cases. Most cases.
---
FedEx Ground Shipping Map 2020
RESIDENTIAL GROUND SHIPPING MAY INCLUDE SATURDAY OR SUNDAY DELIVERY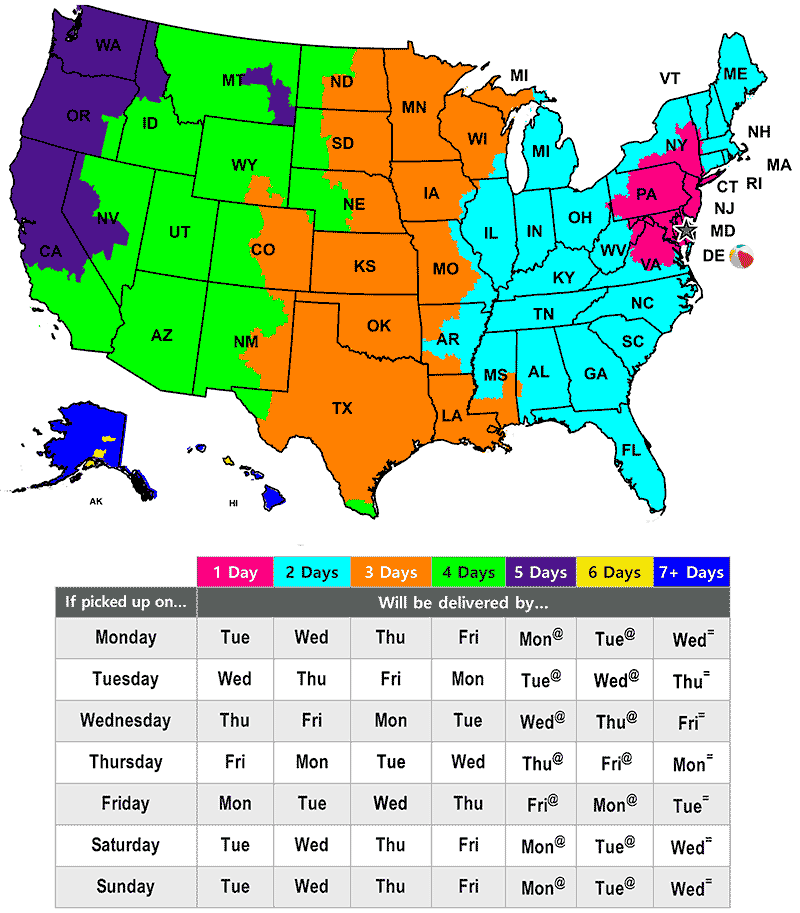 ---
What if my beach ball arrives damaged?
Please inspect all packages upon receipt for shipping damage, missing or incomplete items. If you have questions, contact us at 302-628-8888 or sales@beachballs.com.