Shipping Information
SEPTEMBER 13th - 17th - SHIPPING TIME CHANGE
PLEASE NOTE: From September 13th - 17th (This week) we need to change the same day shipping deadline from 4pm to 3pm. This should be temporary. If you have an sudden issue, please call us at 302-628-8888. We'll do our best to continue shipping out as soon as possible.
---
WHEN DO WE SHIP? DAILY EXCEPT SUNDAY
We ship daily Monday - Friday on All Orders in by 4:00 pm ET
Saturday on Most Orders by 12:00 pm ET.


NOTE: SATURDAY SHIPS UNTIL USPS PICK-UP. ACTUAL TIME MAY VARY.
---
TIME SENSITIVE?
If you absolutely need these or expect this by a certain date, please let us know in the COMMENT section.
What if it's after the 4:00 pm deadline and it's critical?


Best to Call 302-628-8888 or TEXT 302-745-7917. We might have options still.
FedEx Ground

- Shipping Time Varies depending on your location. 1 - 5 Days in the US. We are located in Delaware (East Coast) See Map Below.

USPS Priority

- 1 to 4 Business Days. The days are usually indicated on the receipt we email after each order.

USPS First Class

- 2 - 6 Days in most cases. Most cases.
---
FedEx Ground Shipping Map 2020
RESIDENTIAL GROUND SHIPPING MAY INCLUDE SATURDAY OR SUNDAY DELIVERY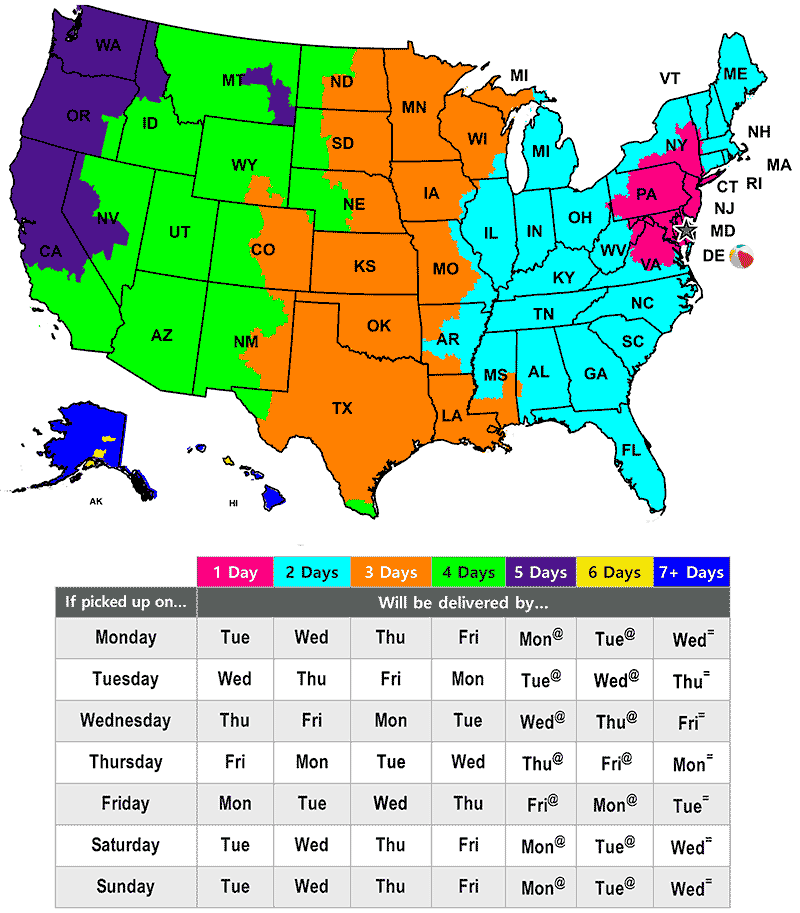 ---
What if my beach ball arrives damaged?
Please inspect all packages upon receipt for shipping damage, missing or incomplete items. If you have questions, contact us at 302-628-8888 or sales@beachballs.com.