About Beachballs.com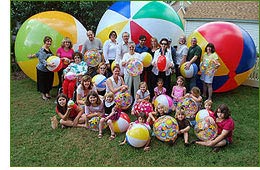 Beachballs.com
is a family-run business that is focused simply on Beach Balls and providing you one-stop in the event you ever need beach balls of various sizes, colors and styles. Plus, at least two essentials like a Pump and Repair Kit. We currently stock about 125,000 beach balls in 500 different styles and colors with more on the way constantly.
All the beach balls visible here are in stock and ready for shipment. We decided long ago to avoid any drop-shipping methods for the time being so we can be more comfortable of the fulfillment of your order.
Beachballs.com is currently located along Route 13 just north of Seaford, Delaware, USA. We had to move to a larger facility in September of 2010. There are plans in the works to move in fall 2014 to a much larger location where we would be able to expand our services, improve inventory and work toward the development of better, more durable Beach Balls and accessories.
Beachballs.com LLC
22536 Sussex Highway, Unit 2
Seaford, DE 19973
302-628-8888