Inventory Updates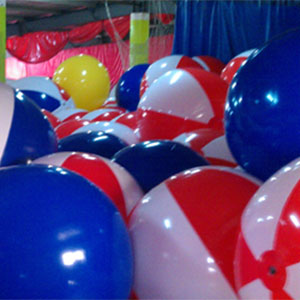 Inflating the Inventory for the Season!
UPDATED: APRIL 26, 2017
We have been working our valves off not only trying to maintain a list of Beach Balls we don't have available and are needed and talking with suppliers in hopes of stocking up a bit and making sure we do our best to make requested dates with the Beach Balls desired. Long sentence yeah. Production can take some time not to mention the long ocean cruise to get here as Beach Balls are manufactured with our good friends in China but most of our suppliers have offices and warehouses here in the United States.
We understand the sentiment at times to find "Made in the USA" products. The simple fact is that millions of products are manufactured overseas. This is not because they are not paid well, very young or the various reasons we sometimes hear. These are professionals who can and have the ability to mass produce products we enjoy every day. Most of the differences are simply in the cost of living and factories specialize in niche products like Beach Balls and inflatables and perfect the processes. We're not on a stump complaining, but "Made in China" indicates the country of manufacturing. The idea and fun is here in the USA or any of the 110 countries we have shipped to. US businesses and their families enjoy the benefits of helping ship the products by air and sea to our location through various other transit companies in the States to our business plus all the people and businesses we utilize locally. Okay, wow.
Below is an idea of what is on order, in production or in the planning stages with estimated arrival times. Please keep in mind that things happen along this process but we try to keep this up-to-date. -
BEACH
IN PRODUCTION: 19,460 Beach Balls
Giants Beach Balls
10-FT Deflated Multi-Color Beach Balls -

ARRIVED



Clear Series Beach Balls
8" Clear Beach Balls - June

12" Clear Beach Balls - June

16" Clear Beach Balls - June

24" Clear Beach Balls - June

36" Clear Beach Balls - June

48" Clear Beach Balls - June

Solid White Series Beach Balls
8" Solid White Beach Balls - June

12" Solid White Beach Balls - June

16" Solid White Beach Balls - June

24" Solid White Beach Balls - June

36" Solid White Beach Balls - June

48" Solid White Beach Balls - June
16" Beach Balls
16" Pink & White Beach Balls - May 4th

16" Black & White Beach Balls - May 4th

16" Red & White Beach Balls - May 4th
16" Orange & White Beach Balls - May 4th
16" Hot Pink & White Beach Balls - May 4th
16" Yellow & White Beach Balls - May 4th
16" Light Blue & White Beach Balls - May 4th
16" Lime Green & White Beach Balls - May 4th
16" Green & White Beach Balls - May 4th
16" Dark Green & White Beach Balls - May 4th
16" Red Black & White Beach Balls - May 4th
16" Navy Blue & White Beach Balls - May 4th
16" Rainbow Bright Beach Balls - May 4th
16" Rainbow Beach Balls - May 4th
16" Solid Red Beach Balls - May 4th

16" Solid Blue Beach Balls - May 4th
16" Solid Green Beach Balls - May 4th
16" Solid Black Beach Balls - May 4th
16" Solid Orange Beach Balls - May 4th
16" Solid Pink Beach Balls - May 4th
16" Solid Yellow Beach Balls - May 4th
16" Solid Lime Green Beach Balls - May 4th
16" Solid Purple Beach Balls - May 4th
16" Solid Gold Beach Balls - May 4th
16" Translucent Rainbow Beach Balls - May 4th
16" Translucent Pink Beach Balls - May 4th
16" Patriotic Stars Beach Balls - May 4th
24" Beach Balls
24" Solid White Beach Balls - May 4th
24" Red & White Beach Balls - May 4th
24" Blue & White Beach Balls - May 4th
24" Light Blue & White Beach Balls - May 4th
24" Solid Black Beach Balls - May 4th
24" Solid Red Beach Balls - May 4th
36" Beach Balls
36" Solid Lime Green Beach Balls - May 4th
36" Solid Green Beach Balls - May 4th
36" Solid Blue Beach Balls - May 4th
36" Solid Light Blue Beach Balls - May 4th
36" Solid Pink Beach Balls - May 4th
36" Solid Hot Pink Beach Balls - May 4th
36" Solid Orange Beach Balls - May 4th
36" Lime Green & White Beach Balls - May 4th
36" Yellow & White Beach Balls - May 4th
36" Solid Yellow Beach Balls - May 4th
36" Red & White Beach Balls - May 4th
36" Orange & White Beach Balls - May 4th
36" Blue & White Beach Balls - May 9th
36" Light Blue & White Beach Balls - May 4th
36" Green & White Beach Balls - May 4th
36" Solid White Beach Balls - May 4th
36" Solid Black Beach Balls - May 4th
36" Solid Red Beach Balls - May 4th
36" Soccer Beach Balls - May 4th