Inventory Updates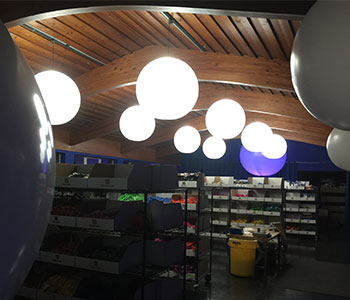 ARRIVED - YES!
UPDATED: JULY 02, 2019
The new Solid White Glow-Ready Beach Ball Series has arrived and here's how it works. Sizes from 16" to 48" have the smaller 1.25" diameter sleeve that is throughout from the bottom and perfect for our LED Lighting. We recommend the Multicolor LED Remote Lights for sizes 16" and 24" and using the Ultra Bright (with limited quantities currently) for 36" and 48". You can use the Remote lights but not sure it's bright enough. Certainly at night, they look very cool regardless.

The larger 6-FT, 8-FT and 10-FT Deflated Size 2.5 Solid White can use our Remote Control LED Lighting that is much larger (2.5" diameter) or you can use your own lighting. Or you don't have to use any lighting on any of these. Or you can have fun with Beach Ball on a stick for decoration. The sleeves are great for various options for decorating, holding in place, etc. For example, we use regular (no heat) LED Light Bulbs on the larger Beach Balls and sometimes use LED Light Strips on the smaller Beach Balls.

Questions, just ask us. thanks -
Beach
Regular Beach Balls
Expected Arrival -
Wednesday August 21st 2019 & August 30th 2019

16" Clear Beach Balls
24" Clear Beach Balls
36" Clear Beach Balls
48" Clear Beach Balls
16" Solid Orange Beach Balls
16" Solid Black Beach Balls
16" Black and Gold Beach Balls
24" Solid Orange Beach Balls

36" Solid Orange Beach Balls
Multicolor Remote LED Lights - For 1.25 Sleeve
Remote Controlled Multicolor LED Lights
Arrived - PENDING TESTS/PHOTOS