Shipping Information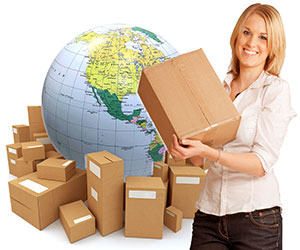 WHEN DO WE SHIP? DAILY EXCEPT SUNDAY
Short Answer, As Soon as Possible because we know how important Beach Balls are. There's usually a Countdown to the right if you have less than 8 hours or so. Now, there's a bunch of wording below on this in awful detail. If after normal hours, there still might be options to get it out.

---

The official cut off time is 4:30 pm ET Monday - Friday and Noon on Saturday for USPS and sometimes FedEX Express. We usually display a running countdown to the right. While USPS and FedEx Ground and Express pick-up at various times, we have ways of getting your order out if placed by 4:30 pm ET.
If possible, we might adjustment shipping methods if that benefits the speed of delivery. For example, if you FedEx Express Saver and we're shipping to New York City, changing it to FedEX Ground would speed delivery by two days. Selecting FedEx 2-Day and we're shipping to Washington DC, Ground or USPS Priority would make it there the next day. This only applies if this makes sense for all of us. We avoid things like trying to "make a profit" on shipping by changing your method selected if it slows it down. But we do reserve the right to speed up delivery.
FedEx Priority Overnight

- Usually by 10:30 am the next business day. So Overnight order Friday is Monday. Overnight order on Sunday is Tuesday.

FedEx Standard Overnight

- Usually by 4:30 pm the next business day. See above. It's just later in the day.

FedEx 2-Day One Rate

- 2 Business Days and includes Saturday delivery if residential.

FedEx 2-Day

- 2 Business Days Monday through Friday. Weekend orders are shipped Monday and would arrive Wednesday.

FedEx Ground

- Shipping Time Varies depending on your location. 1 - 5 Days in the US. We are located in Delaware (East Coast) See Map Below.

USPS Priority

- 1 to 3 Business Days. The days are usually indicated on the receipt we email after each order.

USPS First Class

- 1 - 6 Days in most cases. Most cases.
WHAT? NO FREE SHIPPING? WHY?
This is one of those questions that is difficult to explain but also easy. In truth, there is no such thing as FREE Shipping. I think we all know that. Shipping costs a lot of money and involves a lot of excellent people who do not work for free.

Free shipping offers are offset by increasing the price of the purchase. We have had this debate with folks who say "they offer free shipping on the same item" but find the item cost more... sometimes way more than it would cost to really ship it. But, they want to purchase the item here WITH free shipping? How is that fair? Profit margins are not that high.

We could increase the cost of all our Beach Balls and offer free shipping, yes. But how much? A Beach Ball that is $2.88 would need to increase to $4.28 to realistically ship via First Class still taking a loss as it would cost $3.58 to ship on average. But if you wanted 20 of them, you could be paying $28 more and we would ship it for example at $12.00+/-. Is it really fair? Offering excellent shipping services at basically cost is our way of being completely fair with all purchases big and small and gives you choices on regular shipping or super fast.

DETAILS ON SHIPPING SERVICES
USPS Priority Mail
- We have integrated the USPS shipping calculation software and all our beach balls and supplies are weighed to provide more fair and balanced shipping calculations. These are postal service rates based on your address and selection. Any questions, just let us know.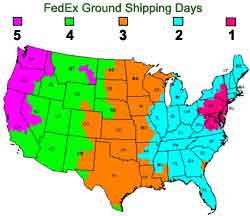 FedEx Ground Services
- This is probably one of the best methods for customers on the eastern half or most of the US and even Canada. Please review the Ground transit time map to the right. Beachballs.com is located in Delaware (East Coast US) and can ready the Red and Light Blue sections in 1 to 2 days. Orange is 3 Days, Green 4 and Purple is a bit longer at 5 days.
Orders Under 5 LBS may have the option of using a special FedEx One-Rate 2-Day Shipping to anywhere in the Continental US.
FedEx Express Services
- Best guaranteed services if date sensitive. Overnight is next day with usually two services such as Priority and Standard. FedEx Two-Day is just that. Express Saver is usually a 3 Day transit.


How Long does it take to receive my beach balls?
Shipping services deliver in 1-6 business days within the United States. Larger items, larger orders, or unusual items may require an extra day. If you need a beach ball by a certain date, please let us know especially if it is a day away. We certainly understand those last-minute urgent needs.
What if my beach ball arrives damaged?
Please inspect all packages upon receipt. If an item arrives damaged, contact us immediately at 302-628-8888. We will do our best to satisfy the situation. Shipping adjustments vary depending on circumstances. Incorrectly supplied shipping addresses, are usually returned via Postal Service and, if not claimed, credit is applied to card used to purchase only. Shipping costs are not refunded.
Please inspect all packages upon receipt for shipping damage, missing or incomplete items. If you have questions, contact us at 302-628-8888 or
sales@beachballs.com
.